The April 4th Foundation Awards
I AM A MAN Award Recipient 2015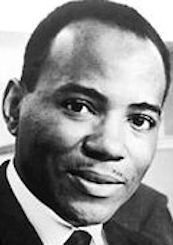 James Meredith
James Meredith is a civil rights activist who became the first African American to attend the University of Mississippi in 1962.
Synopsis
Born in Mississippi in 1933, James Meredith was raised on a farm with nine siblings. He joined the military after high school and attended an all-black college before becoming the first black student at the University of Mississippi in 1962. After he graduated, he earned a law degree and became involved in politics. He continues to be active in civil rights and lives in Jackson, Mississippi.
Early Life
Born in Kosciusko, Mississippi, on June 25, 1933, James Howard Meredith was raised on a farm with nine brothers and sisters, largely insulated from the racism of the time. His first experience with institutionalized racism occurred while riding a train from Chicago with his brother. When the train arrived in Memphis, Tennessee, Meredith was ordered to give up his seat and move to the crowded black section of the train, where he had to stand for the rest of his trip home. He vowed then that he would dedicate his life ensuring equal treatment for African Americans.
Integrating the University of Mississippi
After high school, Meredith spent nine years in the Army Air Force before enrolling in Jackson State College—an all-black school—in Mississippi. In 1961, he applied to the all-white University of Mississippi. He was admitted, but his admission was withdrawn when the registrar discovered his race. Since all public educational institutions had been ordered to desegregate by this time (following 1954's Brown v. Board of Education ruling), Meredith filed a suit alleging discrimination. Although the district court ruled against him, the case made its way to the U.S. Supreme Court, which ruled in his favor.
When Meredith arrived at Ole Miss to register for classes on September 20, 1962, he found the entrance blocked. Rioting erupted, and Attorney General Robert Kennedy sent 500 U.S. Marshals to the scene. Additionally, President John F. Kennedy sent military police, troops from the Mississippi National Guard and officials from the U.S. Border Patrol. On October 1, 1962, James Meredith became the first black student to enroll at the University of Mississippi.
He wrote an account of his experience, titled Three Years in Mississippi, which was published in 1966. After the University of Mississippi, Meredith continued his studies at the University of Ibadan in Nigeria, and then later earned a law degree from Columbia University in 1968.
Political Involvement
Becoming active in the Republican Party in the 1960s, Meredith unsuccessfully ran for Adam Clayton Powell Jr.'s seat in the U.S. House of Representatives in 1967. Several years later, in 1972, he ran for a seat in the Senate, losing to Democratic incumbent James Eastland. Following his unsuccessful congressional bids, from 1989 to 1991, Meredith served as a domestic adviser to U.S. Senator Jesse Helms.
Personal Life
Meredith met and married Mary June Wiggins while serving in the U.S. military. They married in 1956 and had four children, one daughter and three sons. Mary died unexpectedly in 1979, and Meredith married Judy Alsobrook the following year. They live in Jackson, Mississippi.
Back to top